Day of Recollection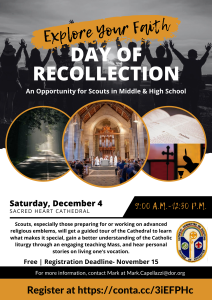 Saturday, December 4
9:00 a.m.-12:30 p.m.
Sacred Heart Cathedral (Rochester)
Scouts, especially those preparing for or working on advanced religious emblems, will get a guided tour of the Cathedral to learn what makes it special, gain a better understanding of the Catholic liturgy through an engaging teaching Mass, and hear personal stories on living one's vocation. There is no cost to attend the gathering and the registration deadline is November 15. To register, click here.
Faith 5k Run/Walk

Fall 2021

The National BSA Religious Relationships Committee is hosting its second annual 5K Hike/Bike/Run/Walk. Participants complete the 5K distance when and where they choose by hiking, biking, running, walking, swimming, hopping, etc. as a unit, family, or parish. The distance can be completed at any point during the fall months. Race kits are available to facilitate participation, but must be ordered by October 15. For more information, click here.
More opportunities for deepening the faith of scouts coming soon!  For more information about these opportunities, contact the Diocesan Liaison for Catholic Scouting at Mark.Capellazzi@dor.org.