Here's what the youth from St. Joseph's in Penfield had to say about this year's
Steubenville Youth Conference!
Our 32 teens and 7 adult chaperones who attended the Steubenville Youth Conference on July 19-21, 2019 had a wonderful and moving experience. We are so thankful to all of the parishioners at St. Joseph's for showing our teens you care through your prayer and financial support. 
Here is what some of our teens had to say about the Conference:
"Steubenville was such a unique experience I will never forget. I had no idea what to expect going into it, and ended up enjoying it so much. It doesn't matter where you are in your faith, it will impact you in some way. For me, Adoration was the most powerful and inspiring thing we did all weekend. I can't even explain what I felt and the power the Lord has."
"I absolutely love going to Steubenville. The speakers are always really down to earth, and awesome people who genuinely love our faith and want to share it with everyone. The worship music is always a high energy, entire crowd involving experience. The entire weekend helps to deepen and strengthen my faith and connection with God, however Adoration is always most impactful to me."
"Even though I had my doubts about how much I would enjoy this weekend, all of it really pleasantly surprised me. The music and speakers were so powerful and inspirational and Adoration was amazing. It is an incredible thing to see and spend time with thousands of people with the same goals and beliefs as you. I really enjoyed it!"
Our Lady Queen of Peace and St. Thomas More Service Project
       Some of the students recently had the opportunity to volunteer at the St. Andrew's Food Cupboard. We brought over donations that filled 8 SUVs. While the donations of food for the upcoming Thanksgiving holiday were plentiful, the youth quickly understood that basic needs exist every day for items that many of us purchase regularly without a second thought. The St. Andrew's director shared a simple story about a client of the cupboard who was met with a difficult choice that most of our children have not had to face. He was instructed that he may select EITHER a bottle of dishwashing soap or a stick of deodorant. Sadly, these items are expensive and the cupboard cannot stock them in enough quantity to allow clients to select both. 
       This is a great reminder that we must take nothing for granted, and that one small act of generosity can have a BIG impact. During December we are collecting dish soap and deodorant to be given to St. Andrew's Food Cupboard. There are collection boxes at either church or bring to youth group, Faith Formation or the Christmas Party for Youth Ministry and Faith Formation. 
Advent is underway at Church of the Resurrection!
     The youth of the parish focused on Hope, Peace and Love. They reflected on what it means to place our HOPE in God, which is the confident expectation of his promises! How can placing our hope in him bring us peace? Make our burdens more bearable and our lives more meaningful? The youth created beautiful Christmas cards to send to the House of Mercy to be distributed to the homeless and created this mural to hang in the narthex of our church to greet our parishioners as the enter the building this advent season!
Intergenerational Service at St. Catherine of Siena teaches life skills as well as generosity
     At St. Catherine of Siena in Ithaca, adult parishioners who work in service ministries come in to teach the youth their craft. One of their expert bakers comes to teach the middle school youth how to make a pie. This is done twice a year around Thanksgiving and Easter. Each youth makes two pies- one for themselves and one which they will hand deliver (with a parent) to an organization (Loaves and Fishes, Hospicare, Catholic Charities) or local department (fire station, police department, doctor's office, mayor's office, etc.) Parishioners are able to sponsor a pie and have their name listed on the card that the youth will deliver with the pie. This helps youth learn a life skill, introduces them to members of the parish, provides service to the community, and gives both youth and adults a fun activity!
     Knitters and those who crochet from the Shawl Ministry come once a year to teach the youth their skill. The youth really enjoy learning a skill that keeps their hands busy and helps them with anxiety and stress. The youth are then able to take home a skein of yarn and their knitting needles/crochet hooks. 
The Youth from St. John the Evangelist in Spencerport are committed to the March for Life!
     Youth group member and Pastoral Council Member, Seth, as a sophomore at Spencerport High School heads up the experience for youth participation. He speaks at both his parish and at Our Mother of Sorrows to encourage other young people to join the walk.  He is quoted as saying: "Our Faith compels us to fight for each life, because every individual has potential and value." Seth, we applaud your commitment to LIFE!
Sofia, a senior at Webster Thomas and a parishioner at St. Rita's wrote this about the recent National Catholic Youth Conference
     I recently had the privilege of attending the National Catholic Youth Conference in Indianapolis. I was there with 20,000 other high school students. It was an amazing feeling to have something in common with thousands of strangers. The theme of the conference was blessed, broken and given. We dove into different ways that we are blessed by God. The most notable way is through baptism when we are made holy by God and become part of his church. But just because we are a part of God's church does not mean we are immune to the brokenness of our world. Violence, depression, addiction, disregard for the value of human life, and the list goes on and on. We know what brokenness looks like and we have all experienced it. But we are the church, and we are given to each other by God. The only way we can heal the brokenness of our world is if we come together and turn to him.
     Everyone walked away with something different from the conference based on the breakout sessions they attended. I attended ones about the value of human life and the culture of death that we are currently facing. As a teenager I have seen what that looks like, and I have seen what it has done to people. But I can tell you that it all comes down to one thing, a lack of hope. People do not understand that even if everyone I knew hated me for who I was, there would always be one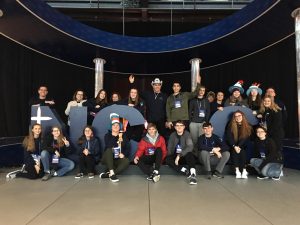 person who loved me regardless, because he made me in his image. I do not have to be pretty enough, or smart enough, or tall enough, I just have to have faith and love God enough. We get so caught up in our everyday lives, that we become stressed and anxious and we lose sight of God. We worry about if we are good enough and about the days to come. But I will leave you with a bible verse that my mother used to read me before bed and that was read at NCYC. Matthew 6:25-34. "Do not worry about your life, look at the birds of the air, they do not sow or reap but their heavenly father feeds them, are you not much more valuable than they. Can any one of you by worrying add a single hour to your life?" NCYC was an amazing experience and I look forward to using what I have learned to serve my brothers and sisters and to love unconditionally.