A.M.B.R.O.S.E at St. Ambrose Church
Adoration- Mass- Benediction- Rejoicing- Optional Confessions- Exposition of the Blessed Sacrament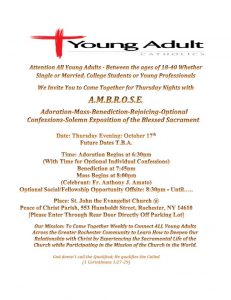 Thursday, October 17
Adoration begins at 6:30pm
St. John the Evangelist 
553 Humboldt St., Rochester, NY 14610
(Please enter through rear side door directly off parking lot)
For more information, click the flyer above!
Keeping our Gaze on Christ as His Faithful Church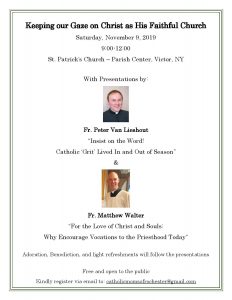 Saturday, November 9, 2019
9:00 AM to Noon
St. Patrick's Church in Victor
A morning of encouragement for Catholics who desire to be faithful in the midst of challenging times. The morning will include presentations entitled "Insist on the Word! Catholic 'Grit' Lived In and Out of Season" by Fr. Peter Van Lieshout and " For the Love of Christ and Souls: Why Encourage Vocations to the Priesthood Today" by Fr. Matthew Walter.
Adoration, Benediction, and light refreshments will follow the presentations. This morning is free and open to the public. Register by emailing catholicmomsofrochester@gmail.com
Young Adult Meet & Greet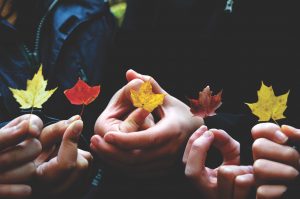 Come meet other faithful young adults following the 11:30 a.m. Mass on Sunday, October 27 at St. Mary's Church (95 N. Main St., Canandaigua 14424) in Dougherty Hall. This is a great opportunity to get to know other young adults and discern interest in a monthly gathering/outreach activity. For more information, contact Ben & Shannon Van Heck at benvanheck@gmail.com or smobrien6@gmail.com
Our Mother of Sorrows Fall Calendar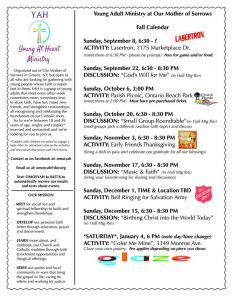 *Click the flyer above for more information*
Sunday, October 20 6:30 – 8:30 pm
DISCUSSION: "Small Group Roundtable" in Hall meeting room
Sunday, November 3 6:30 – 8:30 pm
ACTIVITY: Early Friends Thanksgiving (bring a dish to pass!)
Sunday, November 17 6:30- 8:30 pm
DISCUSSION: "Music & Faith" in Hall meeting room
Sunday, December 1, Time and location TBD
ACTIVITY: Bell Ringing for Salvation Army
Sunday December 15 6:30- 8:30 pm
DISCUSSION: "Birthing Christ into the World Today" in Hall meeting room
*Saturday* January 4 @ 6 pm
ACTIVITY: Color Me Mine, 3349 Monroe Ave
St. Pius X Fall Gatherings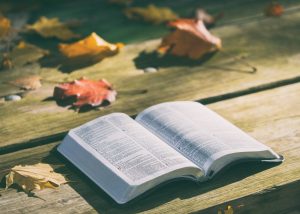 October 17: Pumpkin Painting as Service- Painting pumpkins and donating them to a local group home as decorations. Please bring a pumpkin to decorate if you are able. If you cannot bring a pumpkin, come anyway!
Both gatherings are at 7:00 pm in the St. Pius Tenth Parish Center. For more information, contact Ashley at ashleyelizabethdorr@gmail.com