Lord of the Rings Study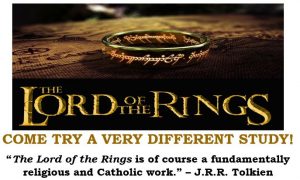 January – March 2020
7:00 PM
St. Louis Church (Pittsford)
See this classic through the lens of Catholicism! The movies and Fleming Rutledge's book, The Battle for Middle-earth: Tolkien's Divine Design in The Lord of the Rings will guide the study. 
CAFÉ Brunch Series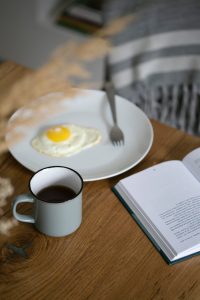 February 2, March 1 and May 3
12:00 PM
Saint Kateri Tekakwitha Parish @ St. Margaret Mary Church (Irondequoit)
Saint Kateri continues their CAFÉ (Coffee After Faith Experience) Series with a brunch series where young adults (18-29) will share a meal and have conversation on a topic relevant to their lives. 
Women's Retreat on Joy
Come, Come to the Heart of Love Psalm 122
Who:  Single women
When:  5pm, Friday, January 31 to 6pm, Saturday, February 1st
Where:  314 Gregory Street, Rochester, NY 14620
Cost:  Free will donation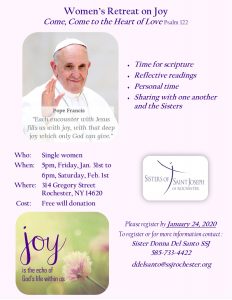 A time for scripture, reflective readings, personal time, and sharing with one another and the Sisters!
Please register by January 24, 2020. To register or for more information contact:
Sister Donna Del Santo, SSJ
585-733-4422
ddelsanto@ssjrochester.org