"Breath of Life" Dinner & Discussion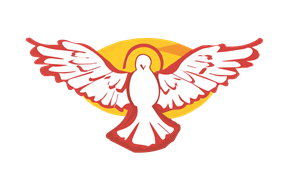 Thursday, May 20
6:30 p.m. (In-person)
7:15 p.m. (Virtual)
Our Lady Queen of Peace
In anticipation of the church's birth at Pentecost and the sending of the Holy Spirit, the young adult ministry at Our Lady Queen of Peace is gathering together to share a meal and reflect on the "breath of life." There are two options for the gathering. You can join in person at 6:30 p.m. for dinner and community, followed by prayer, reflection and conversation until 8:15 p.m. Join can also join over Zoom from 7:15-8:15 p.m. on your device. For more information and to join the gathering in either of these ways, click here. The reflection will touch on such questions as:
How do I know the movements of the Spirit in my life?
How is the Spirit calling me to greater growth?
What obstacles keep me from following the stirrings of the Spirit in my heart?
Where do you see the Holy Spirit "caged?"
What gifts of the Holy Spirit might be helpful to embrace more in my life?
From Love, For Love-
Discerning God's Will Retreat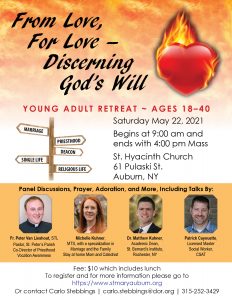 Saturday, May 22
9:00 a.m.- 4:00 p.m.
A retreat for young adults 18-40 that will provide insight into how to discern God's will in one's life. The retreat will include talks on various discernment topics, panel discussions, prayer, adoration, Mass and fellowship. Lunch is included. There is a small fee for the retreat. For more information and to register, click here.
Grilling with God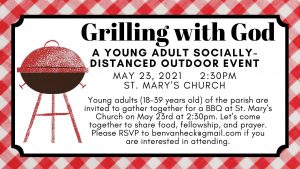 Sunday, May 23
2:30 p.m.
St. Mary's Church- Canandaigua
Join the young adult ministry of St. Benedict Parish for a cookout. This gathering will be a great opportunity for fellowship and prayer. For more information and to RSVP, contact Ben Van Heck 
here
.