In a distinctly Catholic setting, the National Catholic Youth Conference (NCYC) invites young people and those that care for them from across the nation to encounter Christ, experience Church, and be empowered for discipleship. The gathering gives those gathered an experience of the universal church through engaging sessions, the sacraments, and opportunities for fellowship. The second chapter of the book of Acts tells about the coming of the Holy Spirit. At NCYC 2021, we will call upon the Holy Spirit to descend upon our young Church and set them Ablaze for the Lord!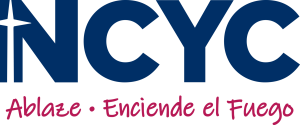 November 18-20, 2021
Our focus for NCYC this year will be supporting parishes as they participate in the conference from here in Rochester. We will be providing local diocesan activities, events, and pilgrimages to engage young people in the NCYC experience. Individuals and families are welcome to attend the conference in-person on their own.
Virtual participation ticket packages are available for purchase through the Diocese of Rochester. The ticket package includes the NCYC virtual participation ticket (at member pricing), a tangible participant pack (including diocesan NCYC gear), and kick-off gathering admission. There is a secondary option for those not able to attend the kick-off gathering. Ticket packages must be purchased by October 1.

Streaming only tickets are available for purchase through NFCYM until November 18 (or until sold out).
Additional NCYC Information