Young Adult Ministry, in the Office of Evangelization and Catechesis, works with ministers, communities, and young adults to meet the pastoral needs of those 18-39, singles and couples, in the Diocese of Rochester. The Diocesan Office of Young Adult Ministry, in collaboration with parishes, seeks to fulfill the four goals of young adult ministry as identified in the USCCB document Sons and Daughters of Light: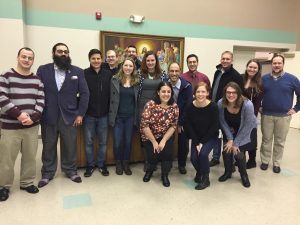 Connecting young adults with Jesus Christ
Connecting young adults with the Church
Connecting young adults with the mission of the Church
Connecting young adults with a peer community
If your faith community is seeking ways to connect with and engage young adults, please contact us. If you have young adult events you would like to promote throughout the diocese, please send information to Leslie Barkin or Mark Capellazzi.
Recommended Young Adult blogs and websites:
Christus Vivit:
Pope Francis shares his insights on the accompaniment, engagement, and vocational mission of youth and young adults* in a post-synodal apostolic exhortation called Christus Vivit. Click here to read more!
STAY INFORMED:
Sign up for our email list for information and upcoming events

Questions? Contact
Mark Capellazzi
Project Coordinator of Youth and Young Adult Ministry
585-328-3228 x1375
Mark.Capellazzi@dor.org